It may be astonishing to hear that 90.63% of all online web content gets no organic traffic from major search engines like Google. That is why it is impossible to overstate the importance of hiring a seasoned SEO agency. Whoever has any online presence needs to implement SEO strategies to keep their head above the water.
There are plenty of SEO agencies online that provide SEO services and software. But what if you are a result-driven SEO agency that wants to offer better SEO solutions but lacks all the time or expertise? If you find yourself in that scenario, white-label SEO tools can do the trick.
What are white-label SEO tools?
Typically, a white-label SEO tool is a regular SEO tool for SEO agencies. That means you can obtain it from a provider and present it as your own. White labeling has become standard in digital marketing as no one has the time or resources to develop sophisticated software from scratch. Nor do they have to do it. With so many white-label options on the market, you need to pick the best one.
After you find out how Google works (yes, there's a catch there) and find the SEO tools you like, you can customize them to a tee to carry your brand's logo and markings. You may use them to analyze your clients and provide SEO services to show them how different you are from other SEO agencies out there.
Benefits of using white-label SEO tools as an SEO agency
Here are a few benefits of using white-label SEO tools:
Offer great SEO tools under your brand
Be ready for a surge in demand
Broaden your set of services
Get access to innovations
If you use a white-label provider, you will get advanced SEO tools that will be well-branded as your business' own. Not only that, you can offer these amazing products to your clients and sit down to watch how their satisfaction grows. That is a lot cheaper compared to asking your in-house team to develop entirely new tools. You get to figure your reputation on someone else's expertise.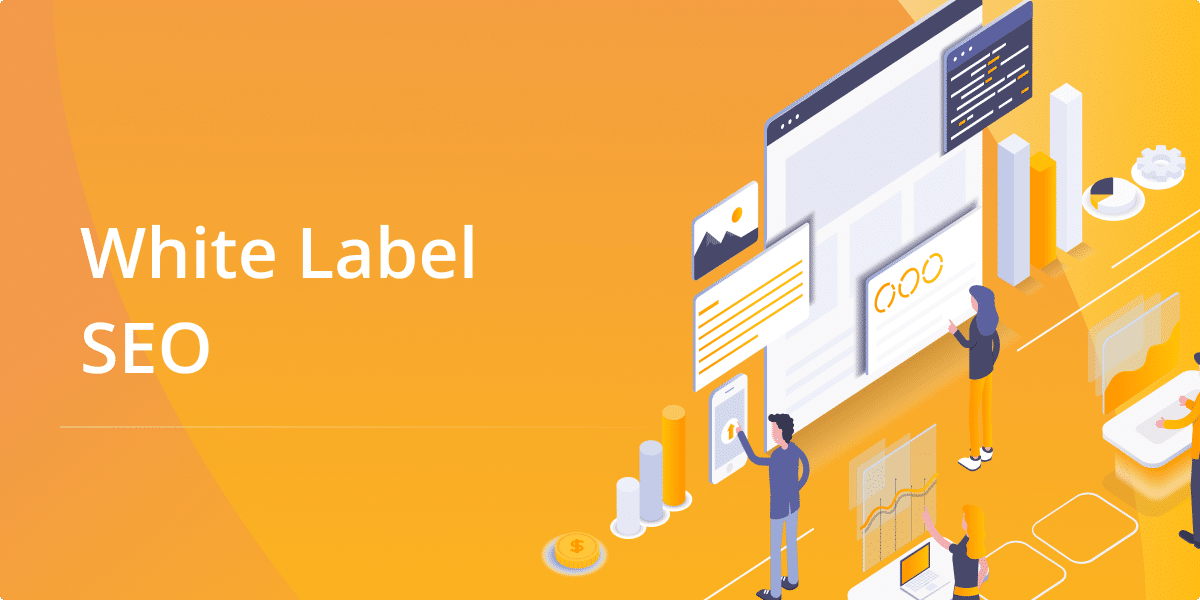 Be ready for an increase in demand
As an SEO agency ready to provide the best SEO services to your clients, you need to be ready once the demand goes up. The fastest and most profitable way to reply to a sudden surge of interest among your regular customers and prospects is to take advantage of white-label products. Indeed, a tried-and-tested product or service made by experts is a way not to let your customers down.
Here are some of the premium white-label SEO tools available for you:
1. AgencyAnalytics
Are you an SEO agency looking for a dashboard that comprises all the  SEO tools you need? AgencyAnalytics is the best tool for you. This premium white-label SEO tool offers you an all-inclusive solution for your SEO projects: rank tracking and backlinks reports. It comes with a dashboard to provide customers with their access and let them see how their campaigns are progressing.
2. WooRank
Providing actionable visions to optimize sites is one aspect that makes WooRank a favorite among SEO agencies. This includes competitive analysis, SEO auditing and monitoring, keyword ranking, and site crawling functions.
3. Marketgoo
The most regraded white label SEO tool to use for those starting– Marketgoo provides a range of DIY tools. Think of it as an SEO agency's best friend.
Marketgoo boasts features designed for all SEO needs of local businesses, bloggers, corporate websites, and online shops. This makes it a suitable tool to add to your arsenal to implement local SEO for small businesses. It is user-friendly and also comes with cheaper SEO tool plans.
4. SEOReseller White Label SEO Dashboard
Get a bird's eye view of all your SEO campaigns in one place. It is possible with a white-label SEO dashboard. The white-label dashboard provides all the bells and whistles to track your SEO campaigns. It will also help you to get data that will help you make informed decisions. With your agency's logo, you can brand the dashboard to show off KPIs and impress more customers with your SEO services.
5. Sell SaaS
Sell SaaS offers a variety of SaaS solutions that can help you set up quickly and start reselling instantly. Every product is customizable, and you won't have to bother about its technical aspect as it takes care of everything backstage. All of their products are lead generation-oriented, which means they are suitable for any SEO agency.
If you are an SEO agency, you may be interested in domain leads software, giving you insight into new sites and domains created every day. That way, you can provide all your services to small businesses yet to gain ground online. You get all the contact info of new companies so that you can offer them your SEO software and services before anyone else.

6. AuthorityLabs
AuthorityLabs provides one of the most detailed analytics tools in the market. If you are searching for a tool that can give you everything you want, including location-based SEO data, AuthorityLabs can be your most suitable choice. You can get specific data on keywords categorized by zip code, city, and more.
Their reports and analyses can be customized to suit your customers' needs, from looks to data-gathering methods. You can get specific data and learn what keywords are good for mobile users. learn more about Authority Labs at https://www.authoritylabs.com/
They offer a 30-day free trial with no strings attached. You can use a full set of features for the plan you choose to test.
7. SERanking
SERanking offers a white-label cloud-based SEO platform with numerous tools you can present as your own. Everything is completely customizable, and you can even create performance-based invoices for your clients. That step alone will speak much of what kind of SEO agency you are.
You can create automatic reports, compare your website with your competitors, monitor backlinks, perform website audits, and much more. Another plus of this tool is that it integrates with Google Analytics and offers API. Aside from having many incredible SEO tools and options, it is super affordable. read more about Google Analytics by clicking here.
8. BrightLocal
BrightLocal is all about SEO. If your customers run small-scale businesses or provide specific services, BrightLocal has the best options for them. The premium tools they offer can also help them rank locally.
You can get custom SEO reports and regulate which data your customers can see. The reports are easily downloadable. BrightLocal also offers review monitoring, which means you can help your customers take their status into their own hands. You can also perform relative search analyses so that your customers can stay at the top of their game.